Multiple Sclerosis Prescription Decision Journey
Individual License:
$4,950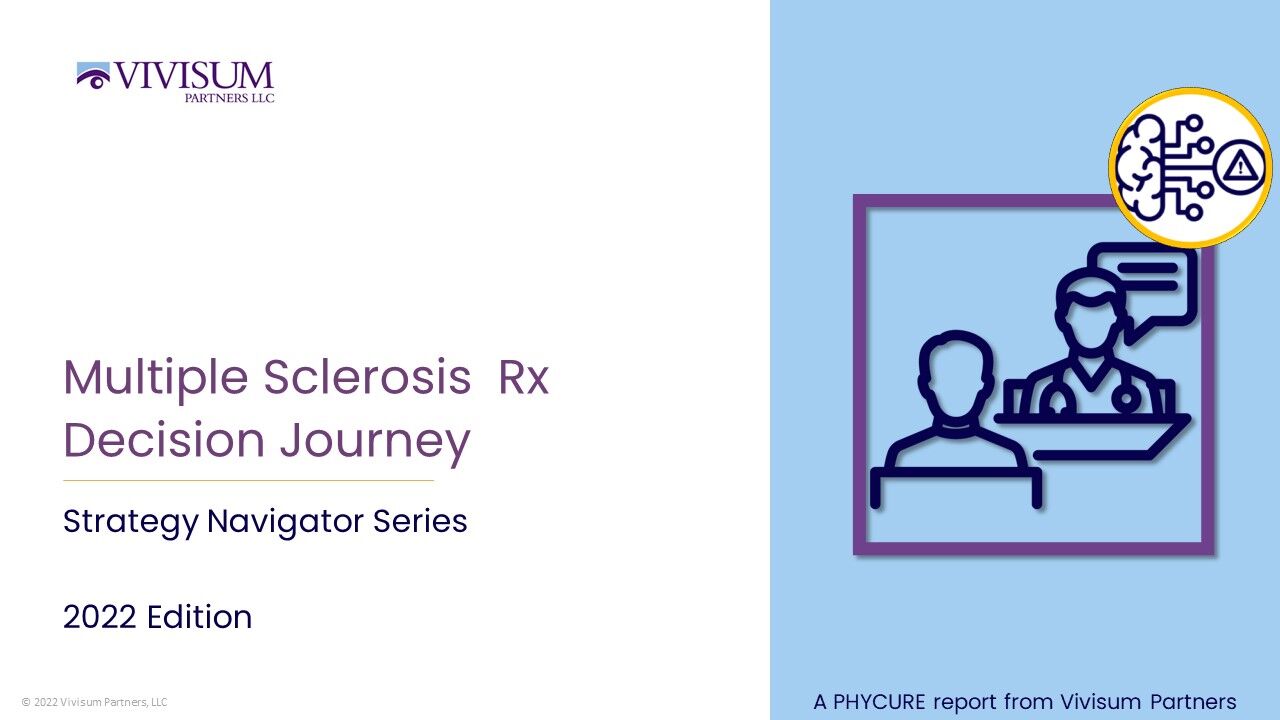 Multiple Sclerosis Prescription Decision Journey details the process that neurologists go through to properly treat their MS patients. Each patient's treatment journey is unique, but there are still common steps that neurologists take on the path toward optimal treatment. This strategy guide describes the decision making process, providing milestones and examples for each step.
Neurologists need to account for a significant amount of information about their MS patients prior to making their multiple sclerosis prescription decisions. From the severity of their symptoms and the details of their diagnosis to their unique patient characteristics and likelihood for relapse, the multiple sclerosis prescription journey for neurologists is complex, to say the least. When coupled with more than a dozen viable treatment options, deciding the right drug requires the correct set of inputs.
The multiple sclerosis prescription decision journey map includes multiple stages. This report details each of those stages and the degree to which each component impacts neurologists' decisions. The quantitative analysis included in Multiple Sclerosis Prescription Decision Journey, supported by direct quotes form US neurologists, provide up-to-date market insights that assist any MS brand's strategy development.
Overview of Multiple Sclerosis Prescription Decision Journey
To navigate the multiple sclerosis market, it's important to outline the prescription journey map. In Multiple Sclerosis Prescription Decision Journey, Vivisum Partners has broken down and detailed the key steps along journey, including key milestones and step-by-step decisions that neurologists make. This strategy guide highlights the journey from an MS patient's first visit, through diagnosis and all the potential treatment options. The report also provides insights on the driving factors behind neurologists' treatment decision.
The key steps on the prescriber decision journey examines the following milestones:
First visit
Diagnosis
Initial Treatment
Treatment switch
Top Corporate Brands in Multiple Sclerosis Analyzed
Alkermes
Banner Life Sciences
Barr Pharmaceuticals
Biocad
Biogen
Bristol Myers Squibb
EMD Serono
Genentech
Immunic Therapeutics
Innocare Pharma
Janssen
Merck
Novartis
Pfizer
Sanofi
Teva
Strategic Questions Answered about Multiple Sclerosis Prescription Decision Journey
Journey Milestones: What are the milestones that shape physician treatment decisions along the MS patient journey?
Journey Drivers: What are the common catalysts and key drivers of physician treatment decisions at each milestone in the MS journey?
Corporate Brands: Which biopharm companies have the strongest brand reputation among MS prescribers?
Summary of Strategic Insights around Multiple Sclerosis Prescription Decision Journey
Genentech's only MS asset is Ocrevus, one of the most well-regarded products in the space. Its reputation stands alongside more established companies like Biogen and Novartis.
The companies with the best reputations usually manufacture drugs that can boast efficacy beyond ABCRs, such as Tecfidera, Gilenya, Ocrevus, and Tysabri.
Tolerability issues are a very close second to MS relapses in terms of factors that catalyze a treatment switch, signaling a need for better balance of efficacy and tolerability.
Benefits of Purchasing Multiple Sclerosis Prescription Decision Journey
Cost-efficient insights about how HCPs decide upon multiple sclerosis treatment to support your strategic marketing decisions.
Insights drawn from in-depth interviews among US KOLs and surveys of more than 125 neurologists
A complimentary 30-minute workshop with you (and your team)
Unlimited support from Vivisum's multiple sclerosis strategist for 1-year.
Table of Contents
Executive Summary – 5
Research Methodology: Robust Insights from US Neurologists – 6
The Strategic Six: Key Insights About HCPs' Multiple Sclerosis Rx Journey – 7
Top Corporate Reputation in Multiple Sclerosis – 8
Prescriber decision journey – 9
Corporate Brand Reputations in MS – 10
Best Corporate Brand Reputation in MS – 11
Biogen Reputation in MS – 12
Novartis Reputation in MS – 13
Genentech Reputation in MS – 14
Sanofi Reputation in MS – 15
Bristol Myers Squibb Reputation in MS – 16
Janssen Reputation in MS – 17
Teva Reputation in MS – 18
Pfizer in MS – 19
Merck Reputation in MS – 20
EMD Serono Reputation in MS – 21
Immunic Therapeutics Reputation in MS – 22
1% Reputation Ratings in MS – 23
Rx Decision Influencers – 24
Most Influential Factors in Rx Decision – 25
Least Influential Factors in Rx Decision – 26
Rx Decision Journey – 27
Prescriber decision journey – 28
First visit – 29
First Visit: Worsening of Symptoms – 30
First Visit: Unclear Diagnosis – 31
First Visit: Patient Request – 32
First Visit: New Clinical Event – 33
Diagnosis – 34
Diagnosis: MRI – 35
Diagnosis: Clinical Exam – 36
Diagnosis: Spinal Tap – 37
Diagnosis: McDonald Criteria – 38
Initial treatment – 39
Initial treatment: Severity – 40
Initial treatment: Age – 41
Initial treatment: Patient preference – 42
Initial treatment: Gender – 43
Treatment switch – 44
Treatment Switch: Clinical Relapse – 45
Treatment Switch: Tolerability and Adherence – 46
Treatment Switch: New Lesions – 47
Treatment Switch: Treatment Success – 48
Contact – 49
Complete the form below for a sample of this research.