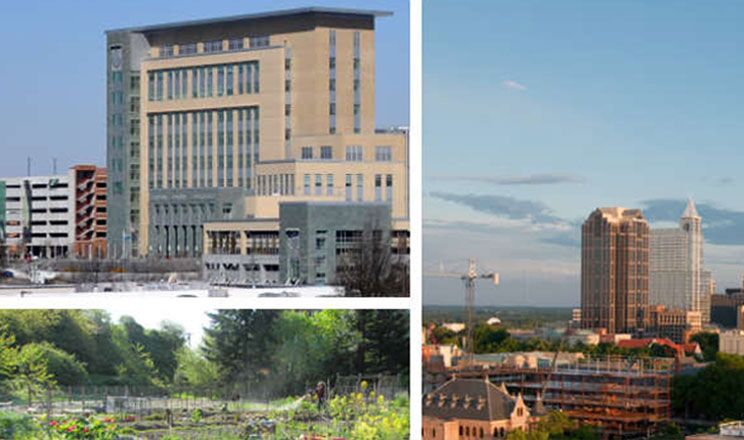 Vivisum Partners and Nourish International are thrilled to announce their partnership for the 2014 Meaningful Work Grant. The Grant, sponsored by Vivisum, is designed to offer a select social enterprise in the Triangle, NC, area up to 50 hours of organizational strategy consulting. At the end of the engagement, the organization is offered $5,000 to help implement on the decisions made during that process."We received so many fantastic and inspirational applications for the Meaningful Work Grant," said Ellen Hart, Director of Philanthropy at Vivisum. "It was such a difficult decision, but Nourish International really stood out to us. We loved their entrepreneurial spirit and bold vision."
It was a perfect match. "Nourish International is a social movement run by student leaders on 45 college campuses. They partner with communities in the world's most economically disadvantaged countries to make a lasting impact on extreme poverty. Through Nourish, college students around the country operate social ventures on their campuses. Students invest the profits that they earn in poverty reduction projects in the developing world, which they travel abroad to implement alongside community organizations. To date, Nourish has involved more than 1,700 students across North America, raised and invested over $469,000, and lead 113 international projects. "Nourish is grateful for the opportunity to partner with Vivisum on a strategic consulting project that will allow us to advance our mission further during a crucial time of our organization's growth," said Kelly Phoenix, Executive Director at Nourish. "This partnership make both immediate and lasting improvements for 60 Nourish chapters and 55,000 people living in extreme poverty that we currently serve." Facing an uncertain economy and ever dwindling funding sources, nonprofits and social enterprises in the United States have suffered.
In the wake of these challenges, many social enterprises have come to appreciate the value of a solid organizational strategy to help weather the inevitable ups and downs. Shirley Stoltenberg of Vivisum, a veteran of the healthcare and strategy consulting world, will be leading up the organizational consulting process. "While not-for-profit organizations tend to think of themselves as being very different from for-profit enterprises, they are actually quite similar organizationally. This is particularly true with regard to the importance of a clearly understood and articulated strategy," said Stoltenberg. "Without clarity around a shared purpose and core drivers, revenue generation can easily default to saying or doing whatever it takes to get supporters on board. This can severely debilitate the fulfillment of the organization's greater mission and vision as a whole."
"We felt that this was the best way our company could really give back to the community," said Hart. "We wanted to use our strengths in strategy consulting and market research to help a worthy organization realize its potential." Vivisum Partners was founded in 2011 as a customer insight consulting company. Over the years, Vivisum has evolved to emphasize strategic consulting as part of its focus on philanthropy in the community. "We're looking to really deepen our impact in the nonprofit and social enterprise world," said Hart. "We see ourselves doing a lot more projects like these in the future. It's been a blast so far." Said Phoenix, "Vivisum's grant and investment of talent in working with Nourish will allow us to leverage more impact in supporting our student leaders making social change and partnering with developing communities to fight extreme poverty."
Ellen Hart
is a Director at Vivisum Partners. She specializes in in-depth qualitative research in healthcare and nonprofit fields. Email Ellen at
ellen.hart@vivisumpartners.com
Sign-Up for Our Newsletter
Stay in touch with the latest and greatest news from Vivisum Partners.