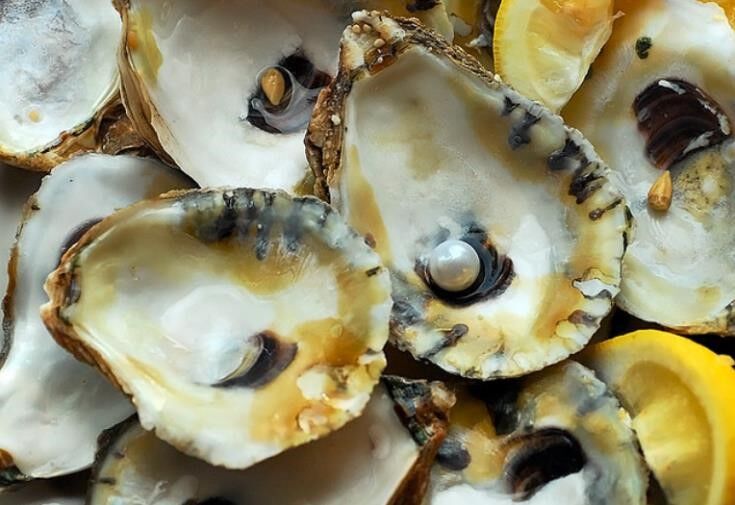 What is the real purpose of market research? The answer is simple: to shine a clear, unbiased light on customers, consumers, and market ecosystem in order to inform business decisions. Too often, however, market research is conducted in a reactionary manner, resulting in insights being generated that are not aligned with what the company needs to make transformational decisions.
Luckily, if market researchers follow two simple steps before jumping into a research project, they can ensure that all of the insights generated are actionable and drive decisions within their organizations.
First, market researchers must align themselves with their stakeholders' strategic objectives in the context of the company's overall business objectives. This understanding allows us to plan a proactive, comprehensive, programmatic approach rather than a reactive, piecemeal project approach, to performing research throughout the year. If we are effective in carrying out these first two steps, it enables us to capture more meaningful and actionable insights when we are actually conducting the research, which is the third step in the process.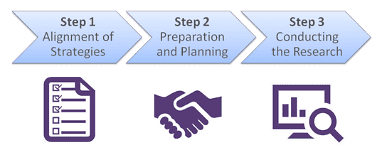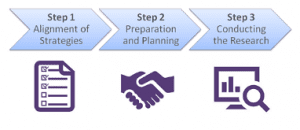 Step 1: Alignment
To develop and plan an effective market research program, it is critical that we understand the underlying strategy for the product, market and/or customers being tested, as well as the specific decisions that will be informed by the results of the research.
If we don't have a clear understanding of the nature and scope of decisions that are being made and how they fit into the overall business objectives and strategy for the topic being researched, we are left with doing only what we are told. On the other hand, if we collaborate with our internal stakeholders up front to gain greater insight to the broader context of overall business objectives, it allows us to understand what each subset of stakeholders are trying to achieve, and not just what they would like to know.
This ensures that the market research strategy aligns with the product, market or customer strategy, and will enable us to conduct market research that results in actionable outcomes that more meaningfully support the overall business strategy.
In short, clarity around our stakeholders' strategic objectives is the single most influential factor in delivering actionable results from research.
Step 2: Preparation
The objectives of just one stakeholder can only help us understand the context of that specific function. Understanding the relevance of the insights being captured in the broader context of the overall business drivers for our company allows us to help multiple stakeholders in delivering a single research program.
Imagine how you might plan a research strategy differently if you were aware of the insight capture needs of multiple stakeholders before you developed the upcoming year's budget. Imagine how you might plan a specific series of projects in support of a brand differently if you were aware of the strategic objectives for the portfolio of products, or the status of development of new products for the same customers or markets.
If we transition our mindset from being Marketing-centric to being Business Driver-centric, how might that enable us to deliver a higher value outcome for our company? It is easier to develop a market research project in isolation that merely responds to what we are told to do by our Marketing colleagues. But it has the potential to reposition us as an internal strategic partner if we challenge our colleagues to think more broadly in designing their approach so it is conducive to actionable outcomes in support of the company's broader commercial objectives.
Step 3: Conducting the Research
Once the business drivers are understood and the market research objectives are aligned with the decisions that will need to be made, it is up to us as market researchers to determine the optimal methodologies to deploy to get the highest value, most actionable insights possible.
Any good market researcher has various experiences with new methodologies, largely driven by technology advances. However, most researchers recognize that new methodologies are not the primary focus in terms of market research innovation. Instead, most researchers must develop creative ways to capture high quality, actionable insights in the context of constrained human and financial resources as the main driver of innovative change.
This further reinforces the importance of having a clear understanding of the overall strategic objectives of our stakeholders so we can plan our market research budget and staffing based on a comprehensive understanding of the priorities of our collective stakeholders' business decision-making and objectives.
[by Ellen Hart and Shirley Stoltenberg]
Ellen Hart
is a Director at Vivisum Partners. She specializes in in-depth qualitative research in healthcare and nonprofit fields. Email Ellen at
ellen.hart@vivisumpartners.com
Sign-Up for Our Newsletter
Stay in touch with the latest and greatest news from Vivisum Partners.